Play

Play Next

Add to queue
Play

Play Next

Add to queue

342,541 plays

Play

Play Next

Add to queue

53 plays

Play

Play Next

Add to queue

30 plays
Genre: Rock / Soul / Southern Rock

Location NASHVILLE, Un

Profile Views: 1067091

Last Login: 8/7/2011

Member Since 3/5/2005

Website http://www.msplinks.com/MDFodHRwOi8vd3d3LmRlbGFuYXN0ZXZlbnMuY29t

Type of Label Unsigned

Bio

Basin, Wyoming; no, there's not much to do there. Google the city and you'll find the Big Horn Co-Op and Tom's Cafe. It's a quiet place to grow up; not the busy metropolis that would spawn the likes of a super-star. Folks there work, spend time raising their families, and listen to the radio when they can get a clear signal. Genre' it doesn't matter; current Country or Golden Oldies, its all music. You start listening to the radio as soon as you're born. It's the place you turn to hear 'outside' voices, not mom or dad, but those voices that are different, from someplace far away. But let's delve deeper into Basin, WY Let's say now that you're a young lady living there since birth, who is now desperately yearning to develop her own sense of fashion and wants to do the things most preteens do. You want to visit the mall. You beg your mom to take you. But she's a single mom struggling to keep things together. It's not simple; you don't just jump in the car and drive the 200 or more miles to either Casper or Gillette. Are there parties or peer groups? Not when you're home schooled; outside influences are all few in numbers. It's the radio you turn to for company; it's the sound of rock, country, classic songs, new songs, new singers, different styles; all now becoming your personal friends. They visit you, coming out of the radio speakers into your room. What does all of this have to do with DeLana Stevens? You've just been welcomed into her world. DeLana was born in Basin, WY. Her roots are those of hard work and a serious demeanor. To succeed, you study the lay of the land. To learn to sing, you just Do It! DeLana sang along with everything she heard; Wynonna, Dottie West, and Bonnie Raitt. She wailed to the sounds of Aerosmith and cried along with Johnny Cash. At age five she'd strut to the Rolling Stones, and learned the meaning of a cowboy's life from the words of Chris LeDoux. She saw a strong future for women in the song's of Aretha Franklin. She developed an 'old musical soul' at a very young age. By age 13, DeLana Stevens developed a voice with salt, smoke and soul that poured out, whether tending to a low key ballad or belting out an up tempo country-rocker with plenty of strength and sass. Her words or the word of her radio friends, it didn't matter, singing was what she was born doing. Knowing she had found her destiny, once again, DeLana approached her mother with a trip in mind. This time it wasn't the 200 mile trip to a shopping mall that DeLana begged from her mother, it was the trip to music city, Nashville, TN. Mom said yes, packing up her 13 year-old daughter and hauling her dreams half way across the US. Music became DeLana's only desire. And with that desire, the need to express her soul's most inner thoughts became overpowering. Once these feelings began to surface, writing her own songs and telling her own stories drove DeLana even deeper into becoming willingly possessed by music. "I'm mostly a lyricist, but I do come up with melodies every once in a while, DeLana said in recent interview, expressing her love for country music. DeLana stated, "You can write about real life more in country music than in any other genre. It's all about being real, and living real life in the real world." Nashville is a tuff town that should have a warning to potential musicians "Enter At Your Own Risk" on its Welcome sign; but it doesn't. Some aspiring 'stars' who travel to music city, return home, defeated and facing the fact that success isn't as easy as it looks. Not DeLana Stevens. Her grit grew out of the rural Wyoming earth. After conquering the obligatory new talent contests and developing a studio style all her own, DeLana Stevens, seeking validation, placed her heart and songs on the internet. By May of 2005, DeLana Stevens eclipsed the 160,000 download/plays mark on download.com! Launching a career doesn't happen over night. After eleven years in Nashville, Stevens was signed to Mach One/Spinville Records late in 2005. She recorded her first project Welcome to My World early in 2006, at the famed Sound Kitchen and Emerald Sound Studios in Nashville. Stevens spent 2006 visiting radio stations and performing live; traveling by car across the US. Her efforts in support of title track single, Welcome to My World and it's follow up single/video Say Hello To Heaven, paid off. Radio opened its ears to DeLana Stevens' music and began 'welcoming' her into their 'world' adding both singles consecutively to there ever competitive charts. "I guess now I'm glad it was a little rough in those first few years. If it happens for you too early, you never get a chance to fully develop as an artist and as a person," stated the 25 year-old Stevens. DeLana Stevens' Say Hello To Heaven video, which Stevens filmed with Nashville's Vintage Flick Productions, was seen by millions on CMT.com and GAC TV's On Demand. The video also aired on the Gospel Music Channel where it placed in the Top 5 Requested Videos with its heartfelt message addressing the pain of loosing a family member to a drunk driver and the courage to forgive. DeLana Stevens will release her third single, Good Enough For Me in early March of 2007. She begins her first national tour early in 2007. Welcome to My World on Mach One/Spinville Records, distributed by CBuJ out of Nashville, TN was released in January of 2007. Welcome to My World contains seven songs co-written by DeLana Stevens. .. ........ .. .. ..............

Members

..CLICK ON THE BANNER BELOW TO PURCHASE DELANA'S CD AND OTHER MERCHANDISE NOW!!.. ........ DeLana opening for Craig Morgan - I Already Am ........ Copy & paste the following code to use on your page... ...... DeLana's new video for her current single SAY HELLO TO HEAVEN ........ Copy & paste the following code to use on your page... ...... DeLana on Tennessee Mornings ........ Copy & paste the following code to use on your page... ...... Click here for a free "Good Enough For Me" Ringtone!! ...... Click here for a free "I Already Am" Ringtone!! ......

Influences

CLICK ON THE BANNER BELOW TO PURCHASE DELANA'S CD AND OTHER MERCHANDISE NOW!! ........ Copy & paste the following code to use on your page... ...... CLICK THE BANNER BELOW TO HEAR DELANA'S INTERVIEW ON COUNTRY STARS ONLINE!! ........ Copy & paste the following code to use on your page... ...... ........ Copy & paste the following code to use on your page... ...... ........ Copy & paste the following code to use on your page... ......

Sounds Like
No recent updates in this category.
Why not...
03:55 | 3630 plays | Nov 6 2006
Bio:
Basin, Wyoming; no, there's not much to do there. Google the city and you'll find the Big Horn Co-Op and Tom's Cafe. It's a quiet place to grow up; not the busy metropolis that would spawn the likes of a super-star. Folks there work, spend time raising their families, and listen to the radio when they can get a clear signal. Genre' it doesn't matter; current Country or Golden Oldies, its all music. You start listening to the radio as soon as you're born. It's the place you turn to hear 'outside' voices, not mom or dad, but those voices that are different, from someplace far away. But let's delve deeper into Basin, WY Let's say now that you're a young lady living there since birth, who is now desperately yearning to develop her own sense of fashion and wants to do the things most preteens do. You want to visit the mall. You beg your mom to take you. But she's a single mom struggling to keep things together. It's not simple; you don't just jump in the car and drive the 200 or more miles to either Casper or Gillette. Are there parties or peer groups? Not when you're home schooled; outside influences are all few in numbers. It's the radio you turn to for company; it's the sound of rock, country, classic songs, new songs, new singers, different styles; all now becoming your personal friends. They visit you, coming out of the radio speakers into your room. What does all of this have to do with DeLana Stevens? You've just been welcomed into her world. DeLana was born in Basin, WY. Her roots are those of hard work and a serious demeanor. To succeed, you study the lay of the land. To learn to sing, you just Do It! DeLana sang along with everything she heard; Wynonna, Dottie West, and Bonnie Raitt. She wailed to the sounds of Aerosmith and cried along with Johnny Cash. At age five she'd strut to the Rolling Stones, and learned the meaning of a cowboy's life from the words of Chris LeDoux. She saw a strong future for women in the song's of Aretha Franklin. She developed an 'old musical soul' at a very young age. By age 13, DeLana Stevens developed a voice with salt, smoke and soul that poured out, whether tending to a low key ballad or belting out an up tempo country-rocker with plenty of strength and sass. Her words or the word of her radio friends, it didn't matter, singing was what she was born doing. Knowing she had found her destiny, once again, DeLana approached her mother with a trip in mind. This time it wasn't the 200 mile trip to a shopping mall that DeLana begged from her mother, it was the trip to music city, Nashville, TN. Mom said yes, packing up her 13 year-old daughter and hauling her dreams half way across the US. Music became DeLana's only desire. And with that desire, the need to express her soul's most inner thoughts became overpowering. Once these feelings began to surface, writing her own songs and telling her own stories drove DeLana even deeper into becoming willingly possessed by music. "I'm mostly a lyricist, but I do come up with melodies every once in a while, DeLana said in recent interview, expressing her love for country music. DeLana stated, "You can write about real life more in country music than in any other genre. It's all about being real, and living real life in the real world." Nashville is a tuff town that should have a warning to potential musicians "Enter At Your Own Risk" on its Welcome sign; but it doesn't. Some aspiring 'stars' who travel to music city, return home, defeated and facing the fact that success isn't as easy as it looks. Not DeLana Stevens. Her grit grew out of the rural Wyoming earth. After conquering the obligatory new talent contests and developing a studio style all her own, DeLana Stevens, seeking validation, placed her heart and songs on the internet. By May of 2005, DeLana Stevens eclipsed the 160,000 download/plays mark on
download.com
! Launching a career doesn't happen over night. After eleven years in Nashville, Stevens was signed to Mach One/Spinville Records late in 2005. She recorded her first project Welcome to My World early in 2006, at the famed Sound Kitchen and Emerald Sound Studios in Nashville. Stevens spent 2006 visiting radio stations and performing live; traveling by car across the US. Her efforts in support of title track single, Welcome to My World and it's follow up single/video Say Hello To Heaven, paid off. Radio opened its ears to DeLana Stevens' music and began 'welcoming' her into their 'world' adding both singles consecutively to there ever competitive charts. "I guess now I'm glad it was a little rough in those first few years. If it happens for you too early, you never get a chance to fully develop as an artist and as a person," stated the 25 year-old Stevens. DeLana Stevens' Say Hello To Heaven video, which Stevens filmed with Nashville's Vintage Flick Productions, was seen by millions on
CMT.com
and GAC TV's On Demand. The video also aired on the Gospel Music Channel where it placed in the Top 5 Requested Videos with its heartfelt message addressing the pain of loosing a family member to a drunk driver and the courage to forgive. DeLana Stevens will release her third single, Good Enough For Me in early March of 2007. She begins her first national tour early in 2007. Welcome to My World on Mach One/Spinville Records, distributed by CBuJ out of Nashville, TN was released in January of 2007. Welcome to My World contains seven songs co-written by DeLana Stevens.
.. ..
Member Since:
March 05, 2005
Members:
CLICK ON THE BANNER BELOW TO PURCHASE DELANA'S CD AND OTHER MERCHANDISE NOW!!

DeLana opening for Craig Morgan - I Already Am
Copy & paste the following code to use on your page.
DeLana's new video for her current single SAY HELLO TO HEAVEN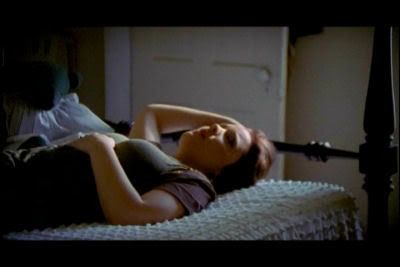 Copy & paste the following code to use on your page.
DeLana on Tennessee Mornings
Copy & paste the following code to use on your page.
Click here for a free "Good Enough For Me" Ringtone!!
Click here for a free "I Already Am" Ringtone!!
Influences:
CLICK ON THE BANNER BELOW TO PURCHASE DELANA'S CD AND OTHER MERCHANDISE NOW!!

Copy & paste the following code to use on your page.
CLICK THE BANNER BELOW TO HEAR DELANA'S INTERVIEW ON COUNTRY STARS ONLINE!!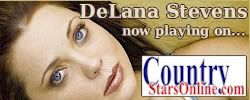 Copy & paste the following code to use on your page.
Copy & paste the following code to use on your page.
Copy & paste the following code to use on your page.
DeLana Stevens has 21502 friends.