Play

Play Next

Add to queue
Genre: Hip Hop / Rap / Turntablism

Location Los Angeles, California, US

Profile Views: 158544

Last Login: 1/21/2013

Member Since 6/13/2005

Website www.DjNikBean.com

Record Label Unknown Major

Type of Label Major

Bio

.. .. ...... .. .. .. Glasses Malone tells Dj Nik Bean the deal on the situation with Joe Budden .. .. .. .. .. .. .. .. .. .. .. Dj Nik Bean & Crooked I Blog from Streetz of L.A. 6 Mixtape .. .. .. .. .. .. .. .. .. .. .. The Source "Tale Of The Tape" Review! .. .. ...... .. .. Hip Hop Weekly "Hottest Mixtapes On The Street" Review! .. .. ...... .. .. "Streetz of L.A. 4" with Dj Drama & Felli Fel Available now!!!!! .. .. ...... .. .. Pre-Order "Street Certified Dvd Magazine Vol.1" .. .. ...... .. .. Interviews with:.. Rick Ross - Trilla coming soon!!!!!.. Ying Yang Twins - The twins are back.. Trey Songz - Explains recent club fight.. Crooked I - Let's you know the deal on Snoop Dogg.. Mistah Fab - Speaks on Joe Budden & Saigon.. Keak Da Sneak - Super Hyphy.. Dj Vlad - Mr. Rap Phenomenon .. .. Street Certified Vol. 1 Trailer .. .. .. .. .. .. .. .. .. .. .. New Crooked I Mixtape "St. Valentine's Day Bossacre" .. .. ...... .. .. Glasses Malone & Dj Nik Bean in the Studio .. .. .. .. .. .. .. .. .. .. .. .. .. .. .. .. .. .. .. .. .... .. .. Dubcnn Interview .. .. .. .. .. .. .. .. .. .. .. .. .. .. .. Ballerstatus.com Video .. .. .. .. .. .. .. .. .. .. .. .. .. .. .. Stash Magazine Top 5 Playlist .. .. ...... .. .. Top 10 Playlist in Goe Magazine .. .. ...... .. .. ...... .... ...... .... ...... .... ...... .... ...... .... Songbuz Magazine Interview .... ...... .. .. Hood Times Magazine Interview .... .......... The TRU Magazine Interview .... ...... .. .. MTV Mixtape Modays for G Malone Mixtape .. .. ...... .. .. Goe Magazine Dj Profile .. .. ...... .. .. Ozone Magazine Mixtape Review for 2 Titles!! .. .. ...... .. ..

Members

.... .... .... .... .... .... .... .... .... .... .... .... .... .... .... .... .... .... .... .... .... .... .... .... .... .... .... .... .... .... .... .... .... .... .... .... .... .... .... .... .... ....

Influences

Sounds Like

Hustle Music
No recent updates in this category.
Why not...
Bio:
.. ..
.. .. .. Glasses Malone tells Dj Nik Bean the deal on the situation with Joe Budden
Dj Nik Bean & Crooked I Blog from Streetz of L.A. 6 Mixtape
The Source "Tale Of The Tape" Review!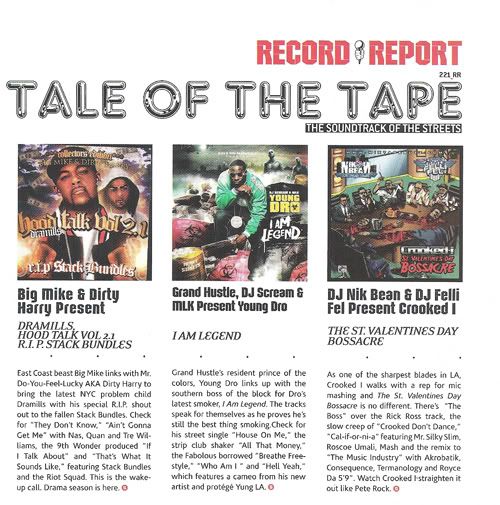 Hip Hop Weekly "Hottest Mixtapes On The Street" Review!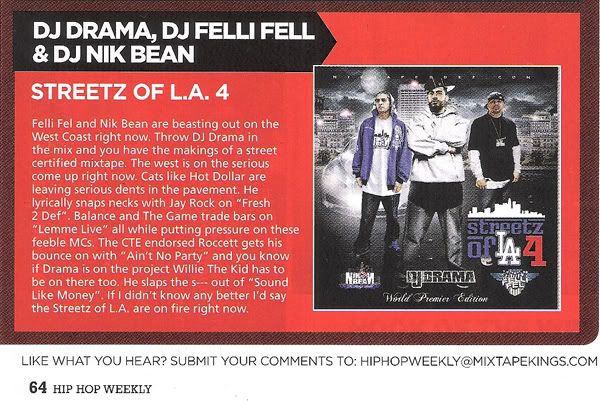 "Streetz of L.A. 4" with Dj Drama & Felli Fel Available now!!!!!
Pre-Order "Street Certified Dvd Magazine Vol.1"
Interviews with:
Rick Ross - Trilla coming soon!!!!!
Ying Yang Twins - The twins are back
Trey Songz - Explains recent club fight
Crooked I - Let's you know the deal on Snoop Dogg
Mistah Fab - Speaks on Joe Budden & Saigon
Keak Da Sneak - Super Hyphy
Dj Vlad - Mr. Rap Phenomenon
Street Certified Vol. 1 Trailer
New Crooked I Mixtape "St. Valentine's Day Bossacre"
Glasses Malone & Dj Nik Bean in the Studio
.. .. .. .. .. .. .. .. .. .. .. ....
Dubcnn Interview
Ballerstatus.com
Video
Stash Magazine Top 5 Playlist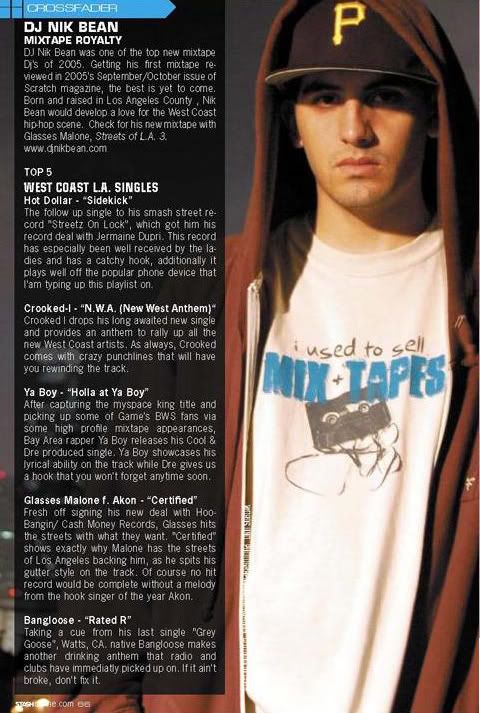 Top 10 Playlist in Goe Magazine
Songbuz Magazine Interview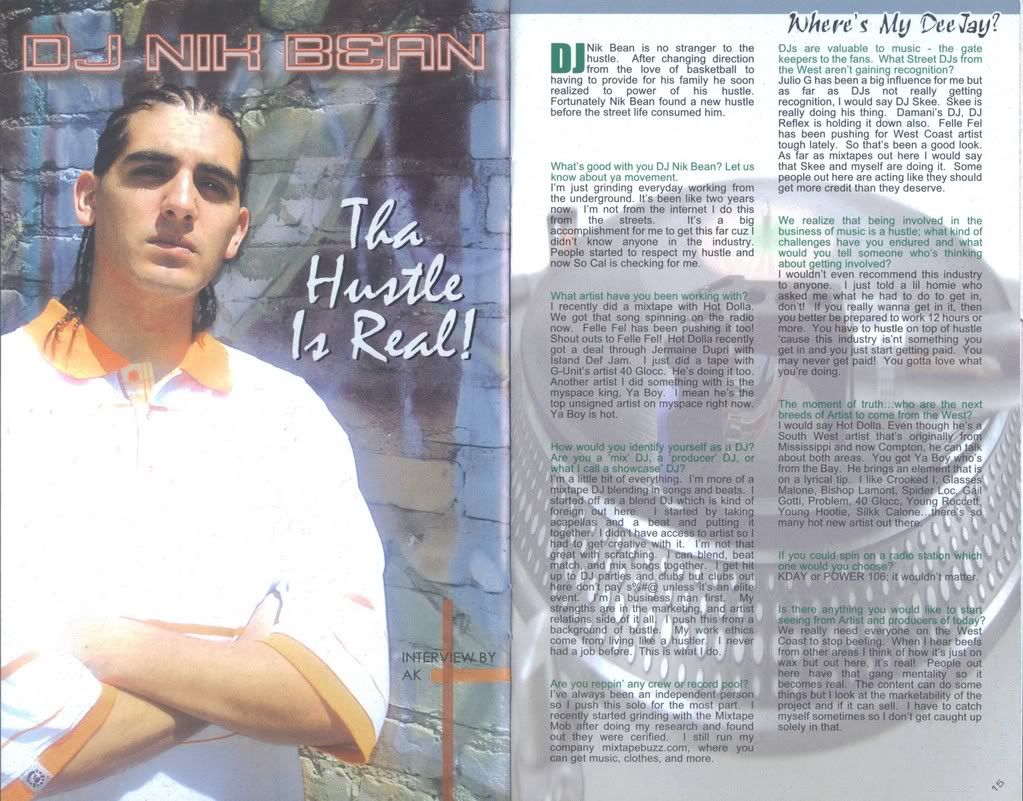 Hood Times Magazine Interview
..
The TRU Magazine Interview
..
..
MTV Mixtape Modays for G Malone Mixtape
Goe Magazine Dj Profile
Ozone Magazine Mixtape Review for 2 Titles!!
Member Since:
June 13, 2005
Sounds Like:
Hustle Music
Record Label:
Unknown Major
Dj Nik Bean has 17751 friends.